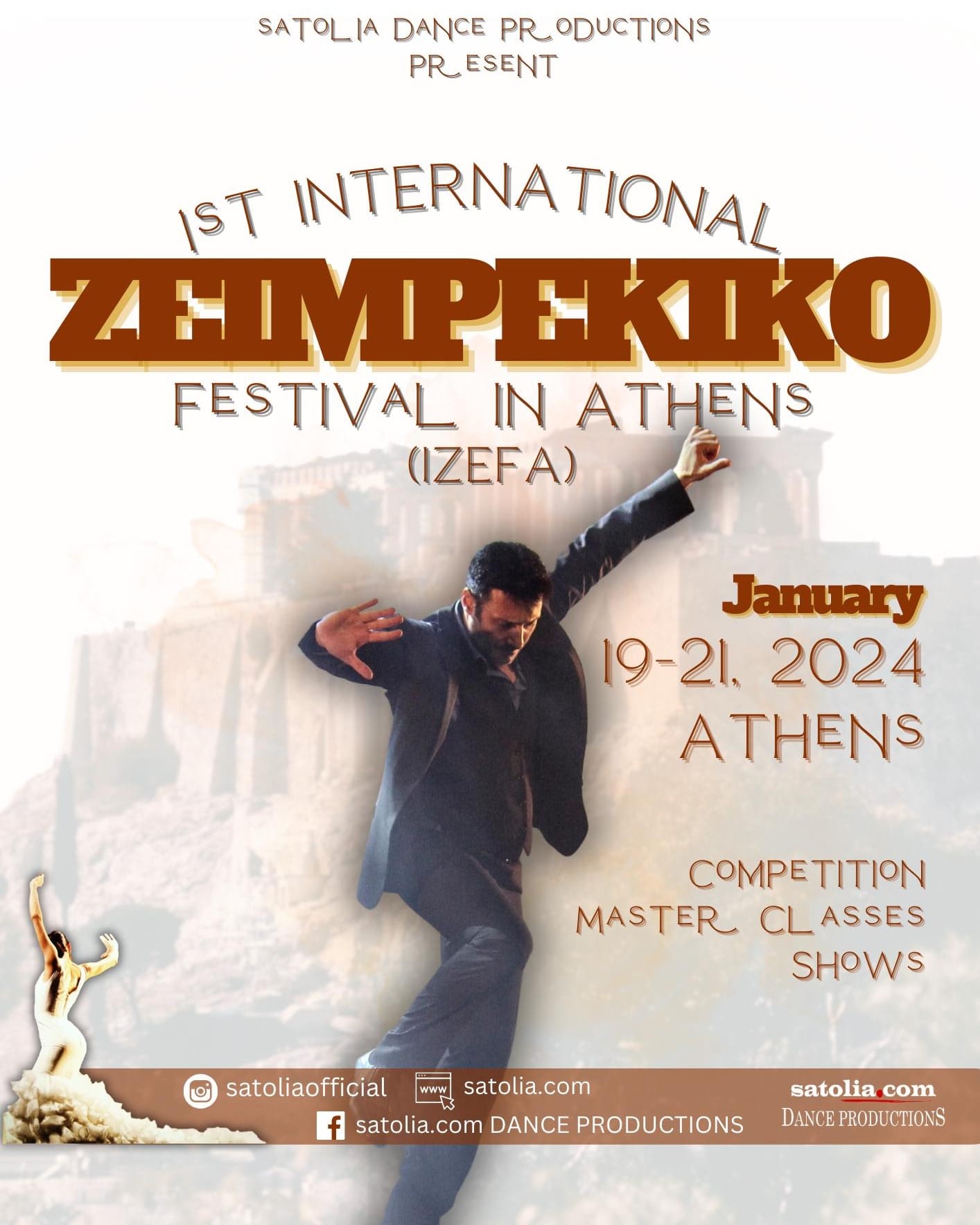 1st Intl Zeimpekiko Festival in Athens (IZEFA)
1499
1499 people viewed this event.
ENTRY FORM
https://contaste.pro/eng/52422
Dear friends,
We are very pleased to announce the first Intl Festival of Zeimpekiko dance in Athens Greece (IZEFA) with the collaboration and participation of Zeimpekiko professionals and lovers from all over the world!
Zeimpekiko comes home in Athens and we are all ready to explore a wonderful journey full of history, melodies and dance steps that connect us all in the most amazing experiences!
Analytically the organization of the festival is as follows:
FRIDAY JANUARY 19th 2024
Arrival of intl competitors, visitors and coaches in Athens
9.00pm Welcome dinner, greek night party for all IZEFA participants and intl visitors! Dance shows from our intl judges
Veniero Kefalari
SATURDAY JANUARY 20th 2024
*Zeimpekiko dance competition in Athletic Stadium Dais*
(the exact times will be announced on January 15th 2024)
INTL JUDGES
Christos Shakallis
Stavros Kalamatianos
Nikolas Karaolis
Kaan Temizel
Panagiotis Katsikis
8.00pm Free night out in Athens for all intl participants and visitors with a greek tour host. A night to explore Athens in the traditional tavernas in the center of Athens.
SUNDAY JANUARY 21st 2024
*Zeimpekiko Group Seminars*
10.00am – Panagiotis Katsikis ●Greece
10.45am – Nikolas Karaolis ●
11.30am – Kaan Temizel ● Turkey
12.15pm – Stavros Kalamatianos ● Greece
1.00pm – Christos Shakallis ● Cyprus
The seminars will take place in Ktima Liarou Vari
2.00pm Goodbye ending of the festival for all!
PRIVATE LESSONS
Private lessons will be available upon request from 19 – 21 January 2024. Bookings for private lessons are made only through the IZEFA venue not with independent agent. Contact 00306974191707 for bookings and information about pricing.
************************************************************
COMPETITION CATEGORIES
1. SOLO OPEN TO THE WORLD (all levels, all ages, no choreography restrictions, no gender restrictions)
SCHOLARSHIP 300 euros is given to the winner for participating in the 2nd IZEFA 2025 sponsored by satolia productions
In this category music is not known to the competitor. Competitors are dancing all at the same time on the stage.
Duration 1.30 min
2. SHOW OPEN TO THE WORLD
A category with no age, level or gender restrictions. Each competitor is dancing with his /her own music 1.30 minutes one by one on stage.
3. TEAMS ZEIMPEKIKO
A group choreography up to 3 minutes. Minimum number of dancers in the group 5. Open choreography, no level, age, gender restrictions
4. SOLO KIDS 7-11 years old
5. SOLO JUNIORS 12 – 15 years old
6. SOLO ADULTS MEN BEGINNERS 16+ years old
7. SOLO ADULTS MEN ADVANCE 16+ years old
8. SOLO ADULTS FEMALE BEGINNERS 16+ years old
9. SOLO ADULTS FEMALE ADVANCE 16+ years old
10. SOLO SENIORS MEN 60+ years old
11. SOLO SENIORS FEMALE 60+ years old
*************************************************************
REGISTRATION OPENS OCTOBER 30th 2023 and closes DECEMBER 30th 2023.
PARTICIPATION COST FOR COMPETITORS
150 euros fixed price for all competitors
The cost includes:
Participation in the competition (up to 3 categories) on Saturday January 20th 2023
Participation in the 5 hour group seminars on Sunday January 21st 2023
Participation in the greek night dinner party – shows Friday January 19th 2023. Dinner included.
PARTICIPATION COST FOR INTL VISITORS
70 euros fixed price for international visitors
The cost includes:
Participation in the public area for the competition Saturday Saturday 20th 2023
Participation in the greek night dinner party Friday January 19th 2023. Dinner included.
DEPOSIT OF PARTICIPANTS CONFIRMATION
An 80 euros deposit is mandatory for the participation of the competitors / visitors by November 30th 2023. Full payment of costs is made by December 30th 2023
COMPETITORS & INTL VISITORS ACCOMMODATION
PRESIDENT HOTEL ATHENS
80 euros per day per person in a double room
70 euros per day per person in a triple room
120 euros per day for a single room
BOOKINGS FOR THE HOTEL/ TRANSFER ARE MADE ONLY IN THE MAIL OF THE ORGANIZATION theodorasatolia@yahoo.com AND NOT DIRECTLY TO THE HOTEL.
A DEPOSIT OF 80 EUROS IS MANDATORY BY NOVEMBER 30TH 2023 IN ORDER TO BOOK YOUR ENTRY AND YOUR BOOKING TO THE HOTEL.
PRESIDENT HOTEL ATHENS ****
In the above prices breakfast and transportation is included (pick up from airport to hotel and all the venues of the weekend in the city)
PRESIDENT HOTEL EXCLUSIVE
President Hotel is the official venue sponsor for the festival. For this case, the festival is not accepting participation in the event with accommodation for international competitors and visitors in a different hotel.
Check in Friday January 19th – Check out January 21st 2024.
In case that intl visitors or competitors wish to stay more in Athens, they will be responsible for their own accomodation from Sunday January 21st 2024.
BOOKINGS FOR THE HOTEL/ TRANSFER ARE MADE ONLY IN THE OFFICIAL EMAIL OF THE ORGANIZATION theodorasatolia@yahoo.com
INFORMATION
www.satolia.com
00306974191707 (whatsapp, viber)
theodorasatolia@yahoo.com
@IZEFA instagram
@satoliaofficial instagram
FB page satolia.com DANCE PRODUCTIONS
IZEFA PRODUCED / ORGANIZED by
satolia dance productions
www.satolia.com
Executive Director
Theodora Satolia
Artistic Director
Stavros Kalamatianos
All rights reserved
We are very excited to welcome you and see you in Athens!
IZEFA team
Athens 2024