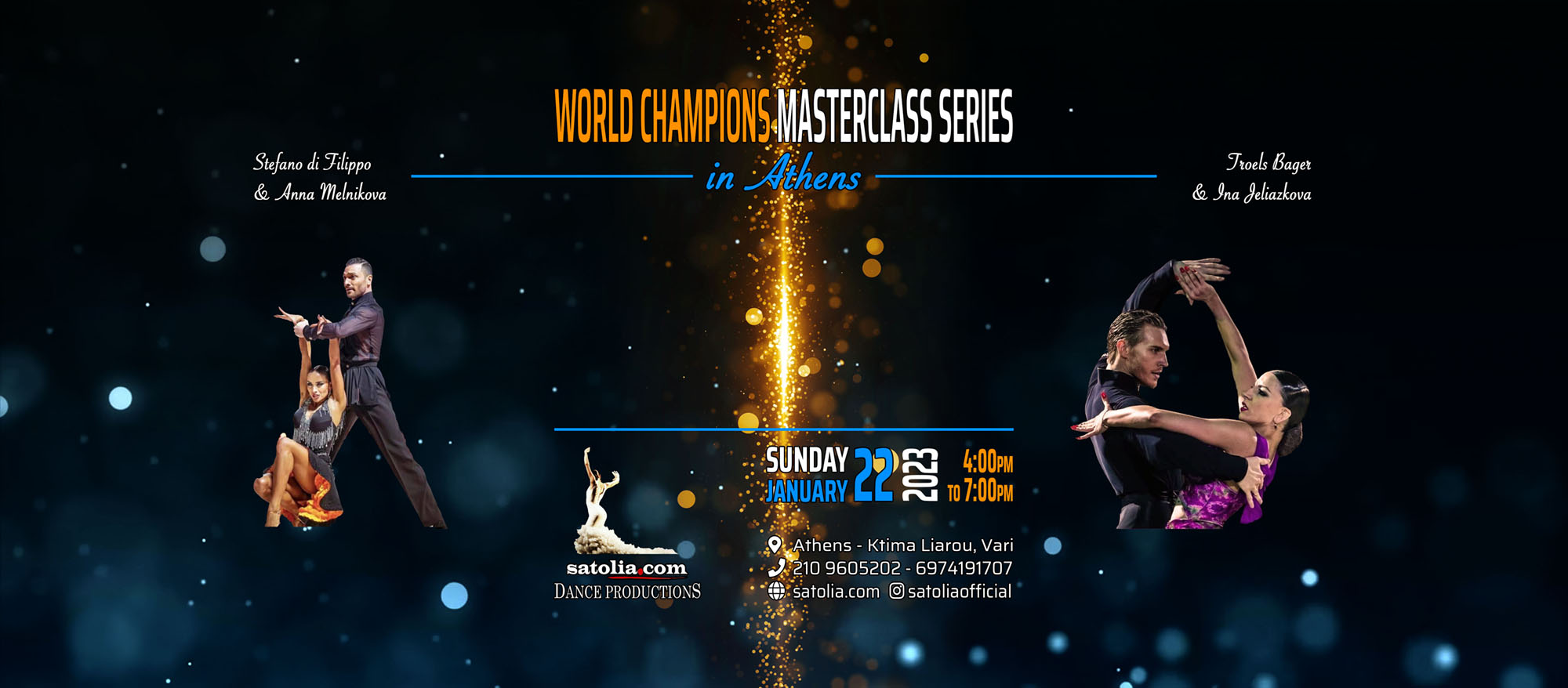 World Champions Masterclass Series in Athens (Stefano – Anna, Troels- Ina)
71
71 people viewed this event.
Dear international latin dancesport friends,
With a great pleasure and honor we present in Athens the world latin professional champions Stefano di Filippo, Anna Melnikova, Troels Bager and Ina Jeliazkova for a great master class series in Athens .
The classes will take place in Ktima Liarou, Vari 4.00pm – 7.00pm
PROGRAM
4.00pm Stefano di Filippo
4.45pm Anna Melnikova
5.30pm Troels Bager
6.15pm Ina Jeliazkova
The dances that will be covered are Rumba, Cha cha, Samba, Jive, Paso Doble. The Masterclasses are open to everyone, every interested dance lover, dancesport competitor, solo and couples competitors. The exact topic of each hour will be announced soon.
COSTS
Cost of participation 100 euros
(Early booking price by October 30th 2022)
After October 30th 2022 120 euros
(Regular price)
By making a deposit of 50 euros until October 30th you can have the early booking price and pay the rest 50 euros of the cost January 15th 2023. Without deposit of 50 euros by the end of October Regular prices will be available only.
Limited space available.
PRIVATE LESSONS
All four champions will give private lessons on Saturday the 21st and Sunday the 22nd of January 2022.
Cost 170 euros for each champion.
Limited space available.
Deposit of 50 euros is made upon request in order to keep the hours booked.
Full payment of cost January 15th 2023
CANCELLATION POLICY
In case of cancellation, the deposit can be transfered to a third person in replacement. of the person that is cancelling.
Money returns and return of deposits are not excepted.
In the case of cancellation of the masterclass from satolia productions money and deposits will be returned.
INFORMATION / BOOKINGS
Theodora Satolia
00306974191707
theodorasatolia@yahoo.com
PRODUCED / ORGANIZED
satolia.com DANCE PRODUCTIONS
www.satolia.com